Contributed Piece by Joe Schweitzer, CLO
---
The
FAA UAS Symposium
held last month in Reston, VA was a great event. It took some time to review my notes and I am excited to share my thoughts. The three-day event provided an insightful snapshot of where small UAS growth is headed seven months after
Part 107
, the commercial UAS rule, was released by the FAA.
The various sessions discussed relevant topics and issues, providing balanced perspectives from the FAA, industry and international aviation organizations. The main message I took away was that while commercial UAS growth has made significant steps forward, it still has a long way to go to scale to its desired and intended state as a mainstream industry.
The exciting fact is many of the components, some more mature than others, are in place and continue to evolve to ensure this is a safe ecosystem with capacity for exponential growth. I left the symposium with the following five observations:

1 | Performance Based Standards
The most common term expressed throughout the symposium was performance based standards. The current rule, Part 107, is just a gateway and starting point for commercial UAS operations. To expand beyond the existing boundaries (i.e. enabling BVLOS, night operations, operations over people) organizations and individuals will need to demonstrate they can consistently perform the required skills, judgement, and risk mitigation procedures to fly safe.
Read more
Rule based risk management is not enough to successfully expand small UAS operations under Part 107. Building safety cases and showing the FAA that operators can demonstrate skill and sound situational awareness are key requirements to expanding UAS operations without the use of authorizations and waivers. Performance based standards need to be the new norm across the small UAS operating population, especially as it grows.
Show less
2 | Integrated Approach
The next most popular theme was the need to create an integrated approach or framework to stay safe, secure, and scale. This theme appeared at the strategic level when discussing the need to harmonize international rules, as well as at the tactical level of operations; whether trying to create better operating models for BVLOS or developing innovative ways sUAS can provide value. Today, the majority of small UAS operations and deconfliction occurs through segregation from manned flight.
Read more
To successfully scale continued integration and communication is required between; national and international aviation entities, FAA and industry, ATC and local operators, small UAS operators within an industry segment, and the public and the UAS industry. Equally important is developing an integrated framework that enables the systematic value of redundancy, as well as checks and balances to proactively evolve and keep pace with advances in technology.
Show less
3 | No Big Data
Probably the most concerning session I attend was on small UAS Data and Forecasting. Due to many factors – new industry, very decentralized operations, no requirement to launch and recover from an airfield, no transponder, etc. – the FAA has very little flight data to perform any meaningful UAS analytics. A big lag exists in this area, making UAS data analysis "as much of an art as it is science". [1] The challenge that exists is determining how the FAA and other safety organizations can develop best practice and lessons learned when very little flight data exists on commercial drone operations.
Read more
The normal FAA (manned aviation) process is accustomed to gathering data on flight hours by airframe, type of operations, area of operations, etc., and determine mishap rates; one mishap occurs per X number of hours for this type of operation. This information is then used to develop proactive training and helps define a competency framework; for example, determining how often must a Part 107 certified UAS operator practice this type of operation to maintain proficiency and qualification. This is where a big unknown exists that still needs to be defined. Industry and small commercial operators may need to help by sharing flight data with the FAA to develop baseline analytics for this industry.
Show less
4 | Rapid Growth & Change
Like most emerging markets the UAS industry is moving rapidly at the speed of technology. A guest panel of technologists from Uber, Intel, Qualcomm and Airbus reinforced this fact showcasing innovative unmanned solutions and complimentary technology they are launching. The challenge is the human element and its characteristically dampened response to developing rules and regulations that can keep pace with this type of change. One could argue that this delayed reaction right now is a good thing. Moving too fast in this space may cause more harm than good. Small UAS growth has enormous potential to change the way we do business and stimulate the United States economy.

Read more
But we still need to maintain the big picture. As one presenter commented,
"we must balance the speed of technology with the speed of aviation."
[2] A fundamental point of this comment is that the small UAS ecosystem is the convergence of technology, aviation, government regulation and business. It is apparent that everyone has a different perspective on what UAS growth looks like and how it should occur. More importantly, this convergence includes an integration of cultures and we need to build a common ground that enables all the stakeholders to add their value while developing the required performance based standards necessary for growth.
Show less
5 | Learning & Leadership Required
This last point is probably the most important and is derived from the preceding ones. In many ways, it is the critical path of safe sUAS growth. The ability to meet performance based standards will be driven by the capacity to train UAS operators to demonstrate the required situational awareness, decision making and skills to consistently fly drones safely and effectively. This will be critical to scale the population of expanding Part 107 certified remote pilots, who are estimated to grow from the 2016 count of 20,362 to anywhere between 211,000 and 422,000 by 2021.[3]
Read more
With the constant change of UAS technology, the expanding utility of drone applications, and modification of UAS regulations, continuous learning and access to knowledge will drive performance and safety. But knowledge and training will not be enough. The expansion of commercial drone fleets to satisfy a growing demand for services must be lead. Leaders across all industries will need to define a vision of growth and safely execute it across a broad and integrated base of operations. Ultimately customers, whether internal or external, will drive the need for an effective and tangible safety culture.[4] The UAS operations that deliver it will grow, those that do not will falter.
Show less
I am already looking forward to attending next year's symposium to see what has changed. My hope is that the 2018 sessions and dialogue will continue to shift from what should and needs to be done to sharing proven ways to best accomplish commercial UAS growth and safety. We need to continue connecting the dots, both as individual operators and entities, and across the growing community. Improved capabilities to share successes and failures across the commercial UAS ecosystem will compress this young industry's ability to expand and align the systematic framework required to safely scale.
---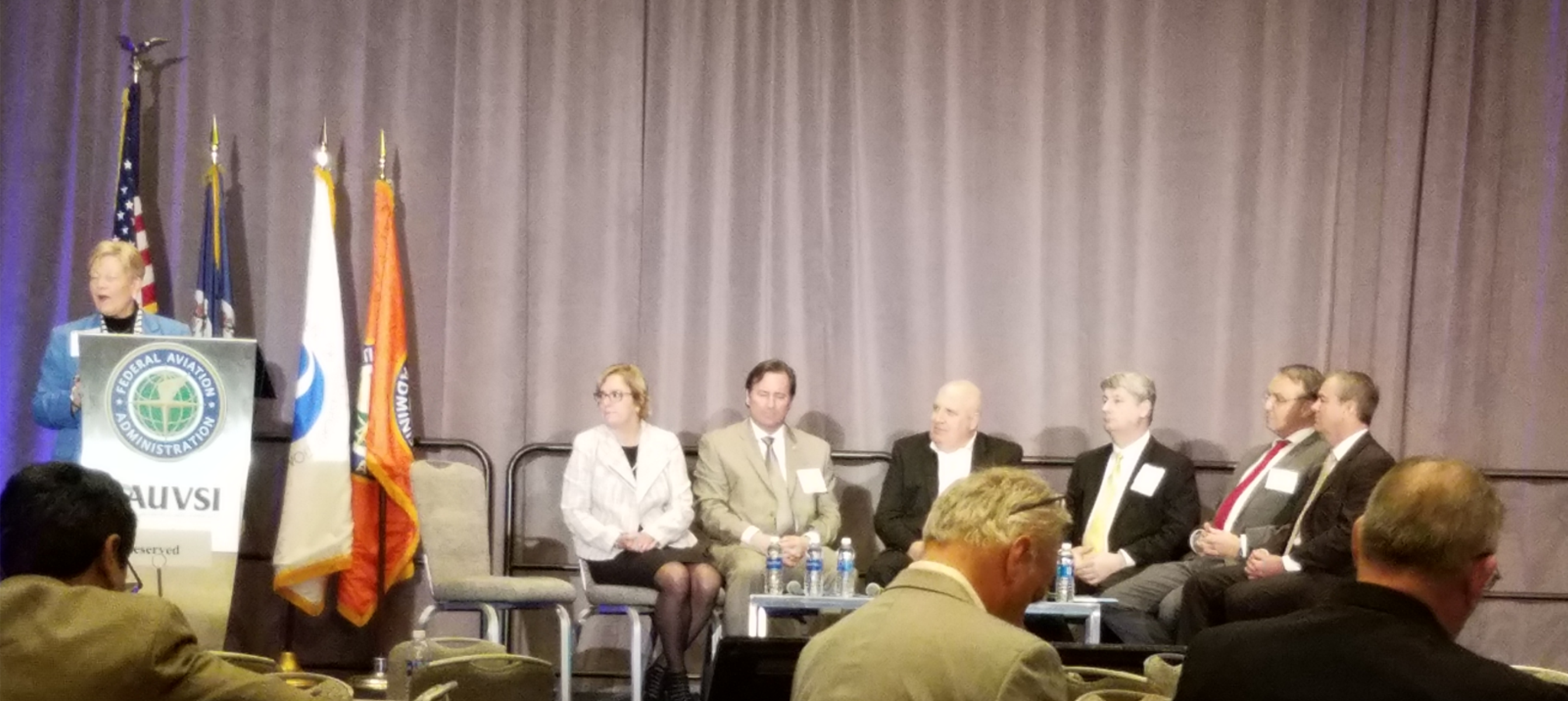 ---
Notes & References
[1] Presenter comments, FAA UAS Symposium 2017 Mar 27-29, FAA Data and Forecasts Workshop
[2] Presenter comments, FAA UAS Symposium 2017 Mar 27-29, Global Leadership, International Partnerships and Harmonization Efforts session
[3] Remote Pilot Forecast, FAA UAS Symposium 2017 Mar 27-29, Handout, FAA Data and Forecasts Workshop, Download the PDF.
[4] Chris Courtney, VP of Flight Operations, FAA UAS Symposium 2017 Mar 27-29, Understanding Your Options as an Operator session